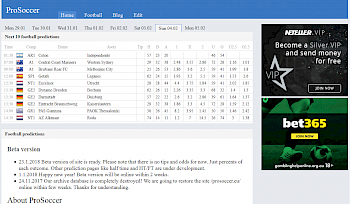 23.1.2018 Beta version of site is ready. Please note that there is no tips and odds for now. Just percents of each outcome. Other prediction pages like half time and HT/FT are under development.
Rewriting all scripts from scratch took more than we expect. The source we take fixtures and past results have some bugs and some events are duplicated. We are working on this issue and in next versions of site all events should have correct start time.
Predictions needs some tunning and out software is not complete yet. The coder need more time to reproduct prediction model we have.
Not all football competitions are included as we need to adjust team names. All bookmakers use different names like Man unt/Man U. ans so on. Our programar works to fetch odds from unibet, pinnacle and bet365.
This site is online from beggining of 2007 and loosing all software and database is big nightmare. Be sure we are going to restore it, but it takes time.
Thanks to all people that write us emails and provide excell tables with what they copy from our archive!
New site have https enabled so all comunication with us is encrypted. This allows to use newest HTTP2 protocol that deliver sites faster. Mobile version is not ready but it is on the way.